You always want the best for your loved one, and assisted living can be an excellent way for a senior in your life to get the care they need. But as time passes, you may start to notice changes in your loved one's health, especially in regard to their memory and cognitive functions. This often leads to the question: when is it time to move from assisted living to memory care?
When your loved one begins experiencing cognitive decline, it can start to change their behaviors. When this begins to seriously impact their day-to-day life, like forgetting to take medication or beginning to wander and get lost, it's time to start thinking about moving to a memory care community.
What's the Difference Between Assisted Living & Memory Care?
Both assisted living and memory care are specialized types of senior living, each designed to meet specific needs. They aim to provide seniors with a high quality of life by giving them excellent care and access to all kinds of services, programs, and amenities.
Assisted Living
Typically, assisted living communities provide help with daily tasks such as bathing, dressing, meal preparation, and medication management. They offer apartment, condo, or home-style living options where seniors can remain highly independent and receive the care they need for a high quality of life.
Memory Care
Memory care, on the other hand, offers all the services provided in assisted living, with additional specialized care for individuals with Alzheimer's disease, dementia, or different types of memory issues. Memory care facilities have specially trained staff, secure environments, and activities designed to improve or maintain memory and cognitive function.
Because memory impairment progresses further and further in later years, memory care aims to slow this progression while maintaining a high quality of life. Residents receive specialized care, therapy, and access to programs designed to stimulate them in a way that lets them maintain their cognitive function.
The Benefits of Memory Care
If a senior in your life is experiencing memory impairment of any kind, it may be beneficial to start thinking about memory care. These facilities offer a secure environment where residents can move freely without the risk of wandering off, and the entire community is designed to be safe and easily accessible for residents.
They also offer:
Specialized activities aiming to stimulate the mind and slow cognitive decline
Customized care plans for each and every resident's unique needs
Round-the-clock medical care and medication assistance
A staff of experienced team members on-site trained to help residents with memory impairment
Diet plans to work with dietary restrictions
Support for family members and education resources to learn more about their loved one's condition
Social options for residents to remain in touch with the people around them
These benefits make memory care an excellent way for seniors with dementia to receive the care they need while maintaining a happy and healthy lifestyle.
Signs That a Loved One Needs Memory Care
Memory impairment can have a significant impact on a person's life—especially if it goes unnoticed or unaddressed. This makes it essential to learn the signs that a loved one is beginning to experience problems with their cognitive function. Some of the early signs include:
Frequent confusion or disorientation
Difficulty managing daily tasks
Increased agitation or aggression
Wandering or getting lost
Significant changes in personality or behavior
Beginning to forget important names, dates, events, and memories
Misplacing items
Repeating the same sentences, movements, or questions
These signs are all indicators that someone is beginning to experience problems with their memory, and can be a sign that your loved one needs professional care.
Questions to Ask Before Moving to Memory Care
Before making the decision to move your loved one into memory care, there are several questions you should ask:
What is the staff-to-resident ratio?
What training does the staff have?
How is a resident's care plan developed and updated?
What types of therapies and activities are available?
How are medical emergencies handled?
What programs are available to help slow cognitive decline?
What's the cost structure for the community?
What's the visitation policy for residents and their families?
Asking the right questions can let you gain insight on how the community runs, and can let you know what to expect from a location.
Choosing the Right Memory Care Community
Choosing the right memory care community involves considering factors such as location, cost, services, and the quality of care provided. Visiting prospective communities, engaging with staff and residents, and getting a feel for the environment is essential. Your loved one's comfort and happiness are some of the most important factors, so take the time to find a community that feels like home.
Because of the importance of choosing the right community, many memory care communities offer the ability to schedule a tour ahead of time. This gives you an opportunity to see what your loved one's life will be like, and allows you to speak with the staff on-site to learn more about the area.
How to Ease the Transition to Memory Care
The transition to memory care can be stressful for both you and your loved one. Moving at any time in life is stressful, and when you add memory impairment to this, it becomes much more difficult. This makes it essential to spend some time with your loved one to try and ease the transition to memory care. There are some things to keep in mind:
Provide emotional support
Openly communicate your thoughts and worries
Actively listen to determine what they need from their future home
Involve them in the process where you can to reduce feelings of anxiety and frustration
Visit the community together so they can see for themselves what it's like
Support their independence and stay positive
It can be helpful to arrange their new home in a way that's familiar and comfortable. This can make the environment seem safer and more recognizable, which can help reduce feelings of anxiety or any fears of this change. Try including familiar items from their home, and prominently display their favorite belongings.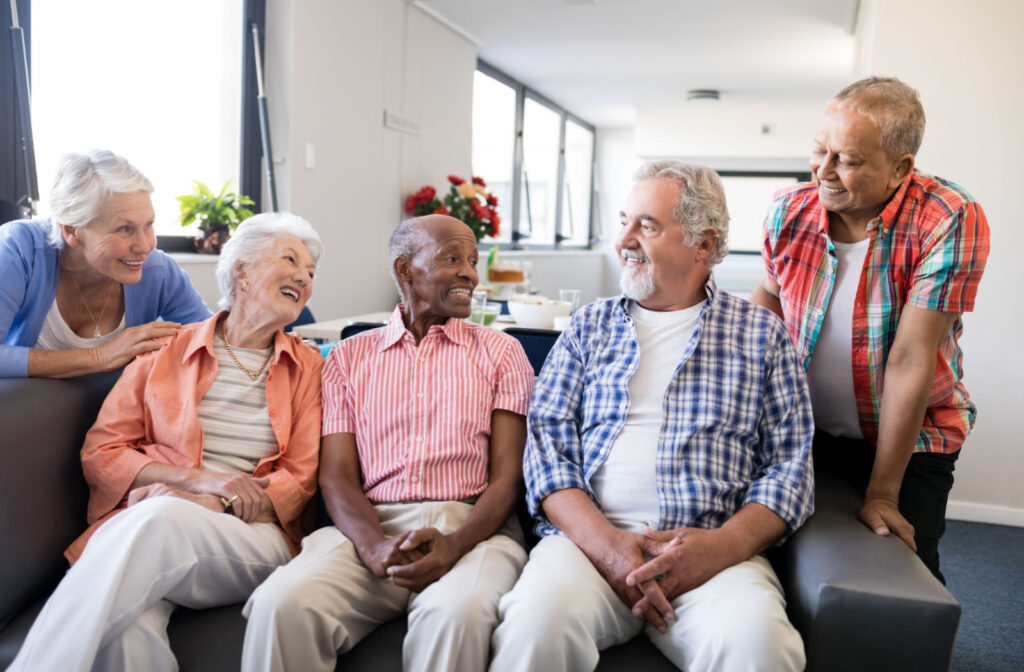 Senior Living Support at Every Stage
Ultimately, the decision to move from assisted living to memory care is a personal one, based on the unique needs of your loved one. While assisted living can be an excellent way to provide a loved one with the care they need, it isn't always the best option when memory impairment is involved. Remember, you aren't alone in this journey.
Here at Minnehaha Senior Living, we know that this transition can be stressful and that the decision to move to memory care isn't always easy. If your loved one is in need of memory care, schedule a tour with us today—our team is here to help ease the transition from assisted living to memory care.