Retiring in a senior community comes with many benefits. For example, many retirement communities include different services or programs to keep residents happy, healthy, and enjoying their golden years.
Art therapy is one program that holds some surprising benefits for seniors. This doesn't have to be an organized program; even the opportunity to create art can be beneficial. Coordination, mental health, brain health, relationship-building, and the feeling of personal growth are all potential benefits of arts and crafts.
It's important to note that arts and crafts aren't the only activity to help seniors care for their mental and physical health. There are many other ways to achieve these results, but art therapy may be a relaxing way to do so for those who enjoy it!
How Can Arts & Crafts Benefit Seniors?
Depending on the community, art therapy may be a planned event for residents, or it may be an option the residents have in a common area. Regardless of the type of art they're doing, the benefits often remain the same.
Hand-Eye Coordination Exercise
Sports like tennis or basketball can be excellent for developing hand-eye coordination, but many seniors don't feel safe engaging in these activities to the degree necessary for noticeable improvement. However, art and craft activities are an excellent option for seniors looking to increase manual dexterity without undue physical effort.
Tasks such as cutting with scissors require focus—and that means improved dexterity! Small details like controlling the amount of pressure you use while snipping something out of construction paper can help seniors improve not only their coordination but also their fine motor skills.
Improved Mental Health
Around 15% of older adults have a mental disorder such as depression or anxiety. Arts therapy may benefit seniors by stimulating their senses with shapes and colors. There is also the potential for mood-boosting conversations with fellow residents or a group facilitator.
Suppose a senior is struggling with a low mood. In that case, the simple act of getting out of their room and doing an activity could be enough to start bringing up their mood slowly. However, depression isn't something to take lightly.
Anyone experiencing depression should see a doctor about their mood if it persists.
Stimulating the Mind
As a younger adult, there is typically plenty to keep you busy: career, kids, spouse, or hobbies. But things in life usually keep us more relaxed as we age. Joining an art therapy group in their community could help keep seniors' brains occupied and beat boredom.
Additionally, there is evidence that suggests art therapy may help slow cognitive decline to lessen a person's risk of developing dementia as they get older.
Building New Relationships
Positive social relationships are important as we age. Typically, living in a senior retirement community offers many opportunities to socialize and build meaningful relationships. For example, art therapy or an arts and crafts activity can provide the chance to make friends.
Suppose several seniors become friends over arts and crafts. They could get together and make holiday cards or homemade decorations.
Achieve a Sense of Personal Growth
Most people don't think about terms like "successful" or "unsuccessful" when it comes to aging, but if we break it down, successful aging for a senior might be characterized by someone who consistently seeks out personal growth and still has desires and dreams.
Research suggests that participating in creative activities, such as art and craft projects, has a positive impact on an individual's well-being. Art therapy can help seniors reclaim their sense of purpose, fostering self-acceptance and aiding in their overall personal growth.
Other Ways to Stay Busy as a Senior
Staying busy by itself won't necessarily produce any miraculous benefits. However, staying busy with engaging and mentally challenging activities can help maintain a sharp mind.
Art therapy can be a great way of filling the day with meaningful activities. Some other ways that a senior can stay busy with fulfilling activities include:
Learning a new skill like dancing or cooking
Learning a new language
Picking up a new instrument like the guitar
Having engaging conversations with other residents
Taking care of a pet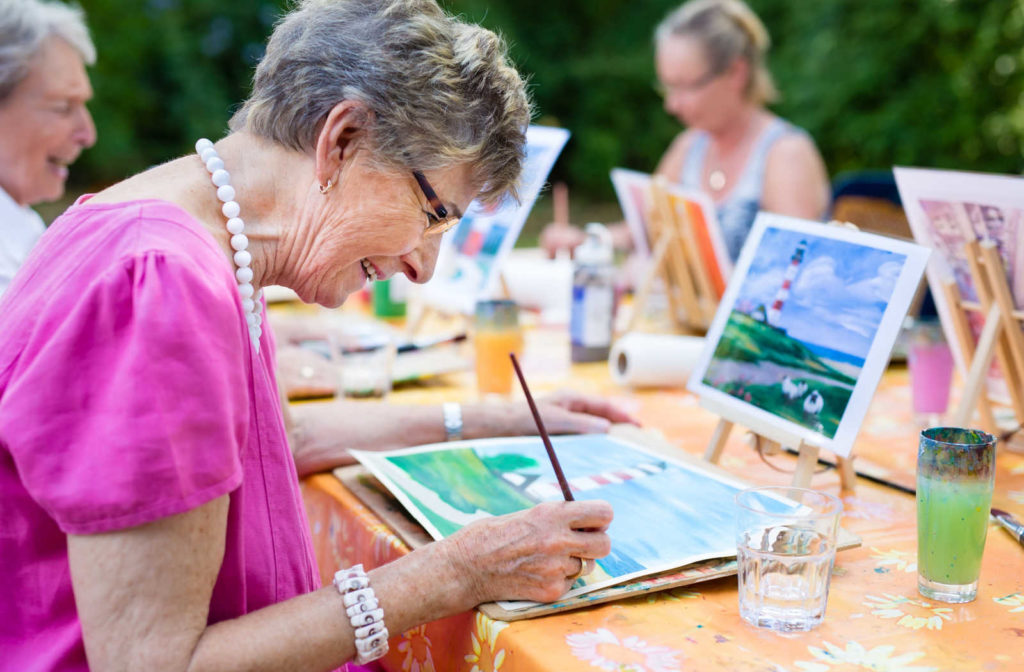 Craft Ideas
Without a facilitator, it can be daunting to come up with creative arts and crafts ideas. Here are a few simple craft ideas for seniors:
Homemade greeting cards
Adult coloring books
Cinnamon stick and orange slice tree ornaments
How Minnehaha Senior Living Can Support You
At Minnehaha Senior Living, we believe what we do matters. Our team is passionate about helping residents enjoy their days and live in comfort. If you're considering senior living communities in Minneapolis, give us a call.
We're happy to answer your questions and book you a community tour, so that you can see everything for yourself.